MAKE YOUR RESERVATION TODAY AND START FROM TOMORROW!

If you're looking for a place to learn about Thai food, Smile Organic Farm Cooking School is one of your choices.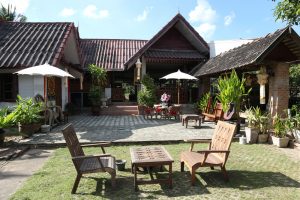 Welcome to Smile Organic Farm Cooking School Chiang Mai, we offer guests the opportunity to learn and practice skills and knowledge necessary to prepare delicious, healthy Thai food. We teach you how to be creative and understand the basic of cooking Thai food as we don't have a fixed menu for you, you cook what you wish to cook.
At Smile Organic Farm, we don't teach you only how to cook Thai food. Our school is set in a beautiful, serene organic farm and garden, you will learn how to grow vegetables and taste herbs in our own garden, as well as cooking and enjoy your food in a relaxing atmosphere.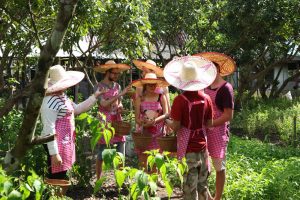 Smile Organic Farm is located 45 minutes away from Chiang Mai old city; near San Kamphaeng Hot Springs. We stop at a local market on the way to the school, you'll see traditional way of life of locals who live in the countryside of Chiang Mai. We have a personal garden that is organic, it is the real organic garden. We grow everything by ourselves; grow with love as we wish to have good health, we use them to cook our own healthy Thai food and we also proudly provide them for your dishes.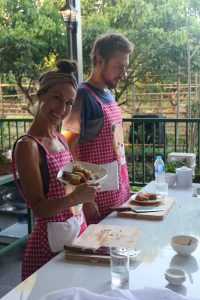 Our garden has many different kinds of vegetables, herbs and fruits such as basil family, root family, hot peppers, mushroom, eggplants, limes, and many more! These can be used as ingredients during the class, that means no toxins in your dishes.
Teachers are experienced, fun, and able to give students personal help. Classes are small, so the environment is more close and friendly. Recipes are beneficial and easy to be recreated at home and students will receive recipes book after finishing classes.

We hope Smile Organic Farm Cooking School will be a part of your memories when you visit Chiang Mai!
Full Day Course
8:00-16:30 (8 categories)
Curry Paste, Curry, Stir Fried, Soup, Salad, Spring Roll, Dessert and
Thai Herbal Drink
1200 Baht/person
Half Day Course
8:00-14:30 (5 categories)
Curry Paste, Curry, Stir Fried, Soup and Spring Roll
800 Baht/person
Evening Course
15:00-21:30 (5 categories)
Curry Paste, Curry, Stir Fried, Soup and Spring Roll
800 Baht/person